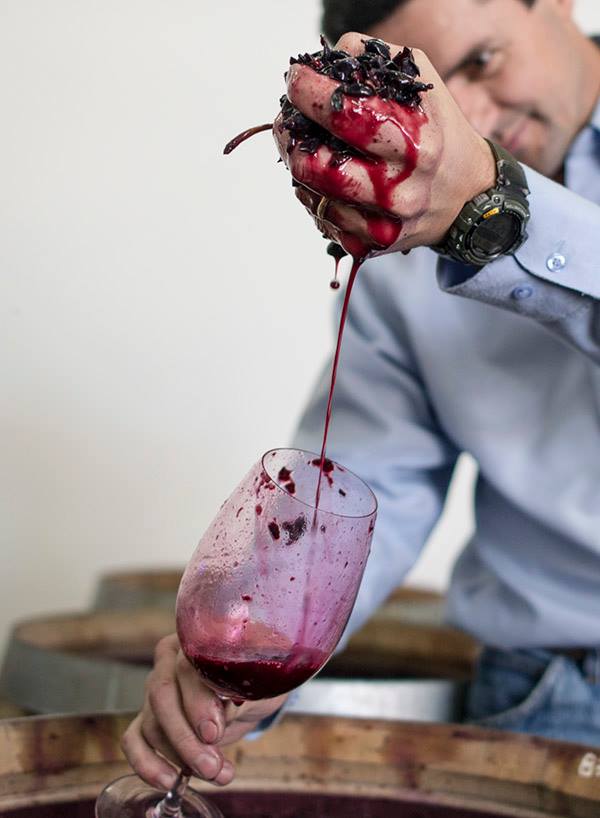 So, that is how our early stages in PerSe were – full of enthusiasm and expectations for what seemed to be a good year.
The season started with a cold spring, after an equally cold and dry winter, and with a frost on September 23, 2011. Just to wake us up!
Such frost was quite severe in the Uco Valley and it resulted in a significant reduction in the harvest. It was silent – as the temperatures were not very low – but once the fruit set finished, its thinning effect on most of the varieties (especially the Chardonnay of the Uco Valley) became evident.
The frost was to Chardonnay what the Zonda wind was to Malbec. We all know how susceptible to coulure or shatter Malbec is, and in Mendoza, Malbec is so sensitive that we do not even want to sneeze near a plant of this variety. As if frost had not been enough, the Zonda wind blew strongly – as it sometimes does – and some trees fell, and the Malbec vines, which were then in flower, were left with half their clothing…
The photo of David squeezing a bunch of Malbec speaks for itself – it was little, but very good! 
The 2012 harvest was quite poor compared to its preceding one as well as to average vintages. We saw reductions in Malbec that ranged from 20% to 50%, depending on the area and the vineyard.
After the Zonda wind, things eased a little with a bit of rain and cool weather… 
The veraison-harvest season (January to March or to April depending on the year) was warm, and there were several days with temperatures over 32 degrees Celsius, the mark of stress. Despite the high temperatures of January, the harvest was reached with a good balance.

How did the wines turn out?
Iubileus is our vision of Gualtallary through Malbec – typical and expressive, with a very good balance in the mouth, a little sweeter and less strained than La Craie. Anyway, just as it should be. The Cabernet Franc bunches help to strengthen its gualtallarescan personality, but they do not take away the generosity that the Malbec has.
As the year started hot, we chose the sectors where the soil had fewer stones and more clay, a kind of natural refreshment.
La Craie, Iubileus' calcareous brother, is different in several respects – it has another expression in the nose, more chalk given by the caliche and the white stones of the soil where it comes from, and a great tension in the mouth. It is a slender, linear, very long and very fine wine where the Gualtallary soil is clearly stamped. The vineyard is the same, but the plots used are different. The grapes are small and very rich, concentrated and of important acidity, and they were fermented together in bins (Malbec and Cabernet Franc). We were surprised that, despite being a warm vintage, the acidity remained, and with this acidity the balance and harmony we seek was reached, so it was not necessary to do anything in the vinification process.
Both wines spent 16 months in barrels used more than once and one year in bottles. Their youth is amazing; we believe that we will be able to keep these wines for a long time but, if you ask us, it is irresistible to open a bottle now…
We say good-bye from this first From the Vines with a song written by Bob Dylan in 1965. Maybe someday, in several years' time, a bottle of La Craie will be found and it will be possible to ask, "How does it feel?" Hopefully, we will be able to achieve in our wines the longevity this song has.