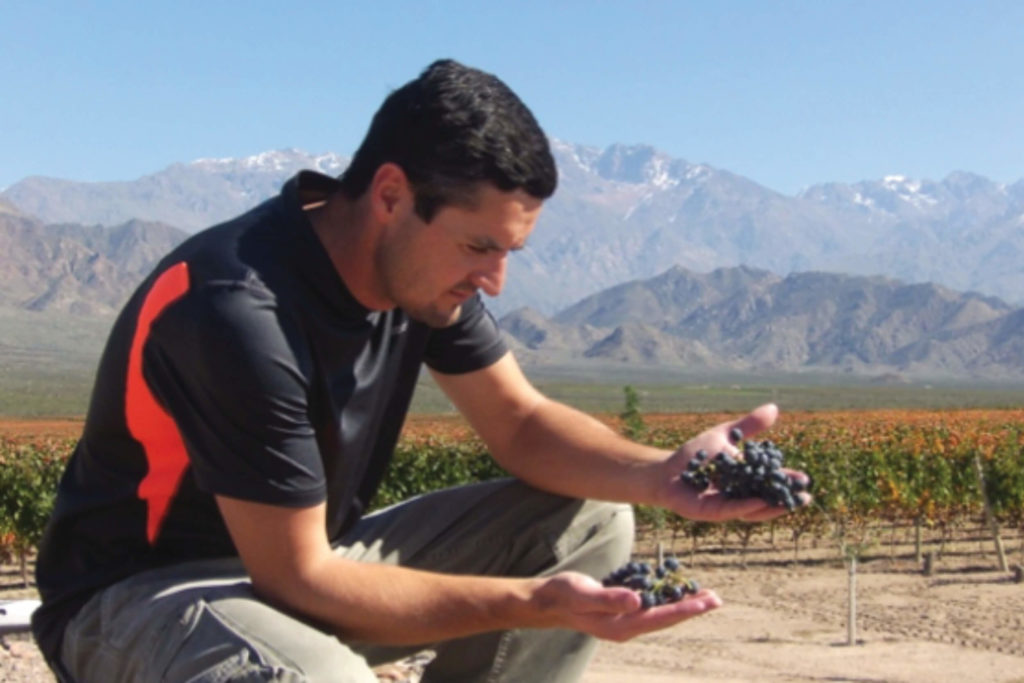 The 2013 Vintage was the first cold vintage of a series of three that was completed with the recent one of 2015. 
Unlike its predecessor – that of 2012, a typical mendocinean year of good heat and ripeness –, this one was a vintage that we will remember for the freshness and expressiveness of the aromas, for the bright acidity and the filigree tannins that gave wines a special capacity to be aged. This is, of course, for those who can resist the temptation of drinking them when they are still young!
"To be or not to be". This is what David seems to think while, instead of a skull, he is holding some Malbec clusters in his hand. With Mount Áspero at the back, in cold (ex) Altamira – the place in the Uco Valley that makes us wait the longest – I see him wondering: 'Which is better, hot or cold?' 'What better characterizes our so special terroirs?' When are they more sincere and honest, displaying more simplicity and genuineness?
If these are the attributes we value, it is because we do not like complicated, pretentious, confusing, over-seasoned, plentiful things. However, be careful, because simplicity is not oversimplification, but rather the contrary: in matters of grapes and wines, it is never as remote as that. Here simplicity is synonymous with precision. And I am not talking about precision viticulture – far from that! This precision refers to the fact that the place expresses itself in the wines with clarity, with a sense of transcendence. It transcends us as producers and it does not allow us to impose any imprint.
We then like cold vintages. Because the cold helps to highlight the best of each terroir and projects it into the future even further than we can imagine. We can also drink the wine shortly, as there are no complicated tannins to tame or greens to soothe in our vineyards…
During the 2013 vintage season, we had cool days and cold nights that kept acidity at optimal levels until the harvest time. That is why the resulting wines have great harmony and balance. Everything about them is more natural.
The average January temperatures were around one degree centigrade lower than the historical average for that month. The cold came early, before the end of February, thus moving the maturity curve down. The arrival of fall was even colder, balancing the sugar and acidity levels.
The sandy and stony soils of the Uco Valley performed better than the low-lying clay-based areas.
Our wines
As the years go by, I feel it is more and more difficult for me to use the recurring descriptors that we have been used to hearing for so long. We know that when a wine has enough personality, it does not need a description but is able to speak for itself.
2013 was a great year for Iubileus, less shy on the nose than that of 2012 and, at the same time, with more tension and freshness. The Malbec character bursts and shows a pure and very frank Gualtallary.
La Craie is again a great calcareous manifestation. Its purest expression is minerality. The vintage and the grape varieties have done everything – we have done little or nothing. A vertical wine.
Finally, the new PerSe! – Francesa, a plot blend from a new and exciting terroir in the southwest of the Uco Valley, Los Chacayes. It is a wine of striking simplicity that takes me back to the 80´s, when the local growers still called French the old populations of Malbec mixed with other red varieties that abounded in our mendocinean vineyards.
Just as the heading of this From the vines says – Awaking emotions –, as we run short of descriptors (or rather, of the desire to use them), different emotions start taking their place. For example, the need to link the past with the present as a kind of nostalgic sadness. A good friend of mine called this a wise, tasty, not acerbic sadness. The joy that causes us to bring the beautiful things of the past to the present is to be enjoyed, not suffered.
Something that gives me great pleasure is to share with my 18-year-old son Santiago our music likes and preferences. Considering our generational differences, it is not easy that I like something very modern, and it makes me very happy to see him enjoy songs or even bands from the 80's or 70's as if he had lived in those times.
That is why when some days ago he told me, "have you heard this?", and he gave me this podcast, I did not hesitate to choose it to go with my 2013 vintage report. In Ocean, by John Butler, I found the best way to draw a bridge between the emotions generated by listening to it (and watching it!) and our philosophy in PerSe. I am referring to the philosophy of less is more, of being able to make use of technology without having to depend on it, of being able to vinify our parcels anywhere – as long as it is clean and comfortable – because what really counts is the grape and the place where it comes from.
I recommend to those who do not know this song that they take the full 12 minutes it lasts because, as great wines, it has several layers and it grows as time passes.
Bye!